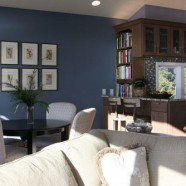 Help!  Everything is white – walls, ceiling, woodwork, cabinetry, and white drab carpet and it is intensified by the natural light at this Oceanside townhouse!  The furniture is sagging and worn out.  The windows are covered with old, beat up, dusty white Venetian blinds.  The living space is small, compact and open to the kitchen, which of course is all white!  The kitchen needs updating (hopefully before the refrigerator "konks out"), the furniture needs replacing, the floors squeak and need to be replaced, the windows need covering and the walls need color, but where and how do we begin?
Initially, an overall design concept was created which included several options for furniture arrangement, color palette, flooring material, and fabrics.  This helped the client envision how they would live in their newly renovated space and what it would look like.  They were excited with the unusual furniture arrangement as it was unlike anything they had tried and it showed that with proper furniture arrangement, their space would have a more welcoming and expansive feel providing ample seating and lounging space for everyone.
Next, a design plan was developed clearly defining the scope of work and detailing all specifications and material selections including furniture, fabric, and decorative items.  Following the plan, the client gained confidence in the process and an understanding of what to expect along the way, with the designer, builder and client working closely together.  As a result of careful planning and listening, collaborative teamwork, attention to details, and creative talent, the stark white townhouse has been transformed into a colorful, restful, warm and inviting home.
Oceanside Townhouse After

Oceanside Townhouse Before
Oceanside Townhouse Kitchen Details